Swipe to the right
Koln karneval 2015 Review: Part two
Part one of our review focused on the first two days of our time in Cologne - generally considered to be the quieter of the 'Crazy Days' however this wasn't our opinion after experiencing it for ourselves...or so we thought. The main Karneval parade on Sunday started at around midday so we decided that the best place to start our experience wouldbe back at the cathedral square. From there we just followed the crowds of monks, pirates and clowns to see the parade up close.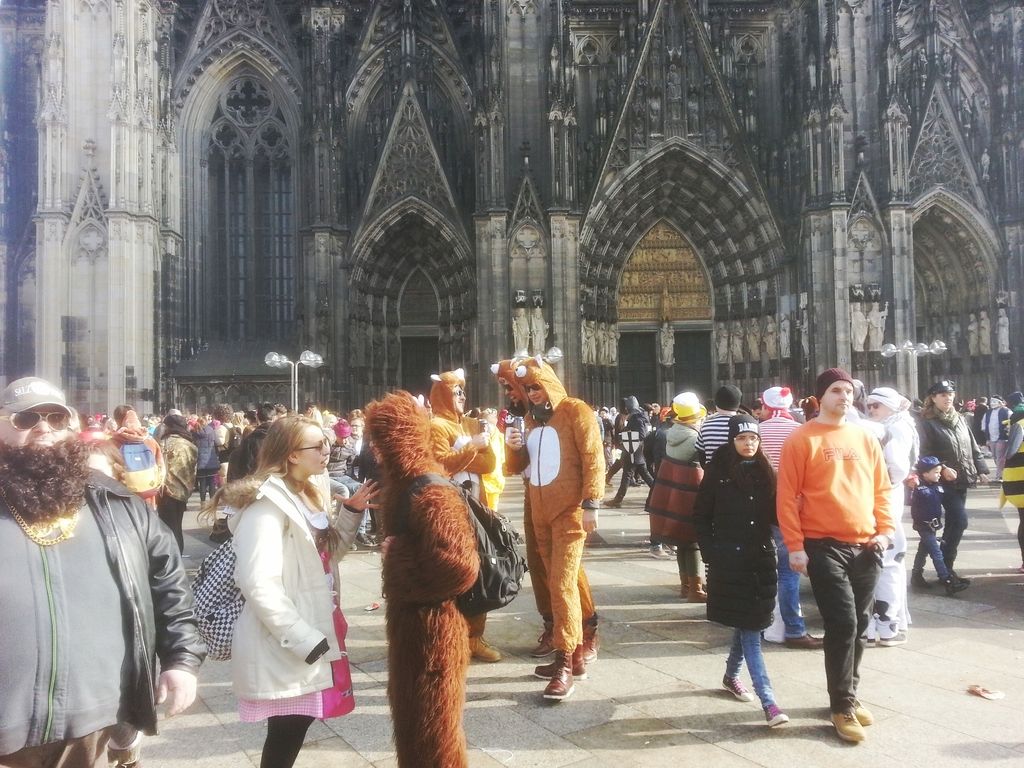 If you stay watching in one place it will generally take the main parade two and a half hours to pass by so we chose our spot and dug in for the long haul! What you see is almost endless legions of costumed groups. The amazing thing about the Sunday parade is that the theme of your dress tends to loosly reflect your profession or the club/hobby that you relate to. Because of this we saw sailors, bakers, musicians and gardeners rerpresented. There were large groups of children parading also - likely from scout-type troupes and weekend clubs - and they were throwing large handfuls of sweets into the crowds.
The large floats and more traditional costumed individuals followed the smaller groups around. They were generally in red and white (the Cologne colours) and throwing more sweets.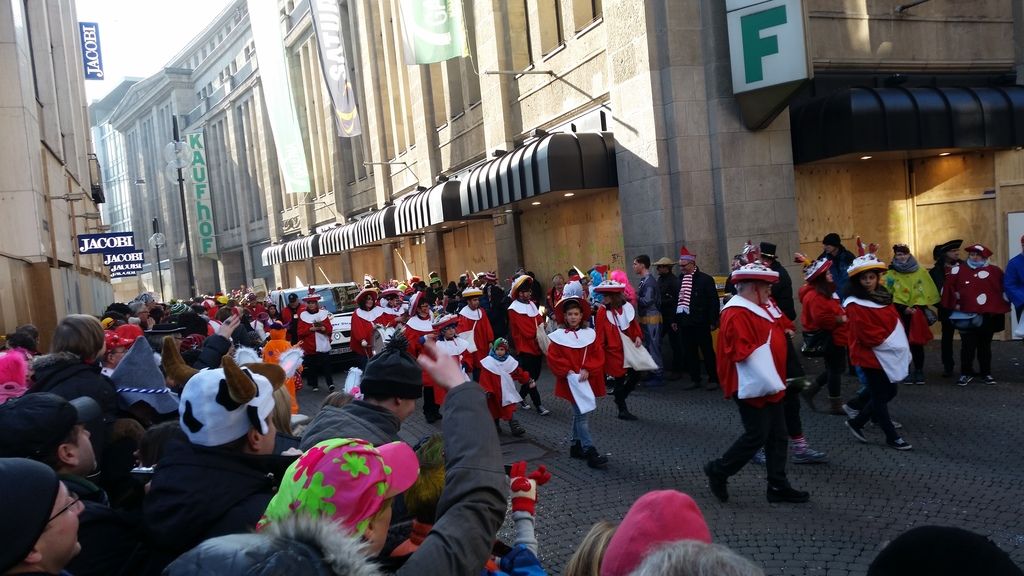 Monday's parade becomes slightly different with the Blue-White Corps (historically a type of army reservist group) leading the march, throwing more sweets into the crowd as well as handing out flowers to those at the front.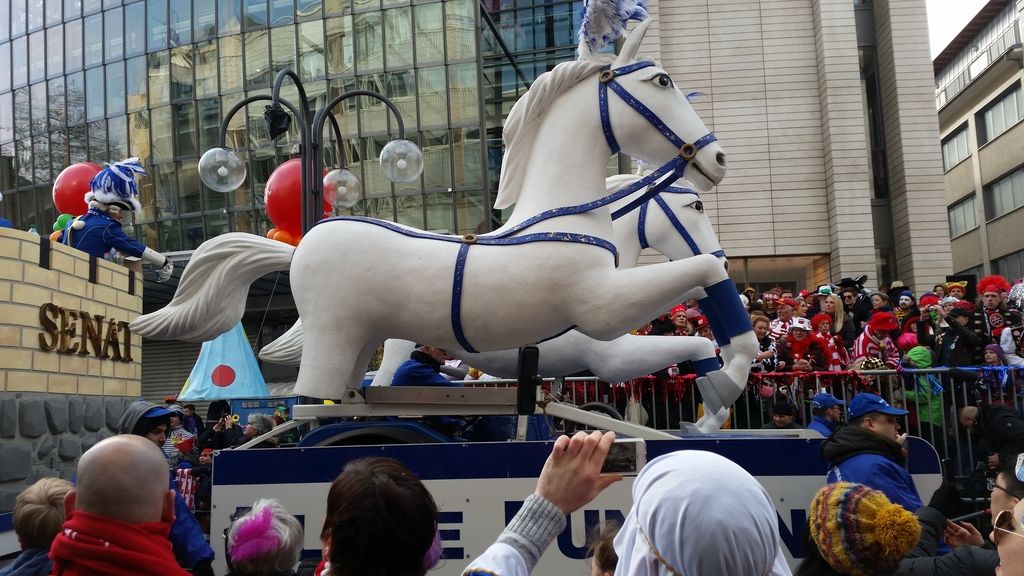 As the parade goes on the floats become more and more elaborate. Large statues start to be seen atop them acting out scenes and some have bands playing from them. The music can be understood in any language - an upbeat tempo thats begging all spectators to clap and cheer along with the beat!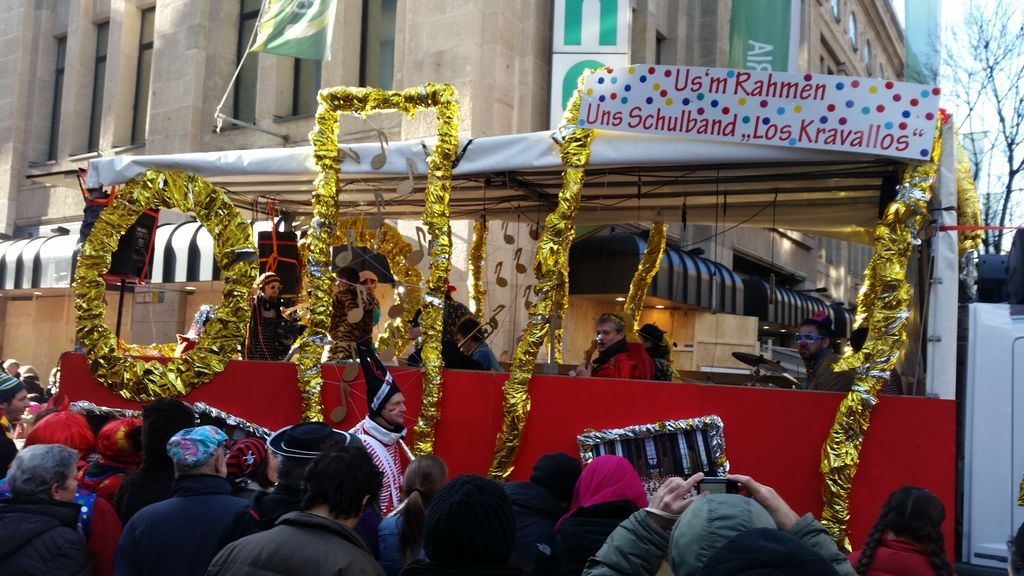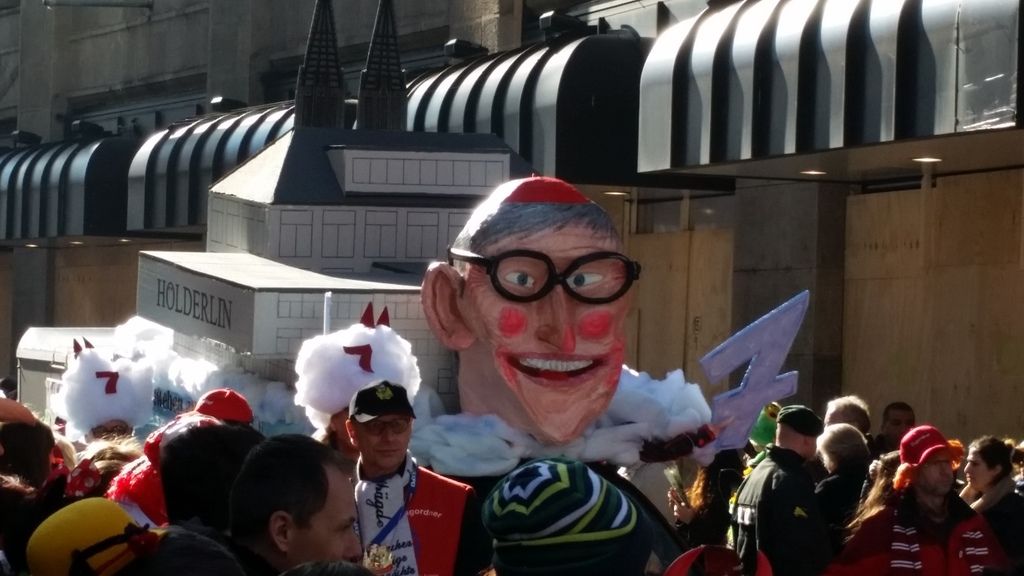 The collections of fancy dress groups walking the parade become more varied and imaginative as we start to see one or two 'minions' from the movie Despicable Me file by. These one or two minions quickly become hundreds as more and more begin to turn the corner and pass by us - we had no idea just how popular these characters were across the world but they have clearly been taken to heart here (back home they currently seem to have infected most people's facebook feeds!) and a whole float is dedicated to these yellow servants.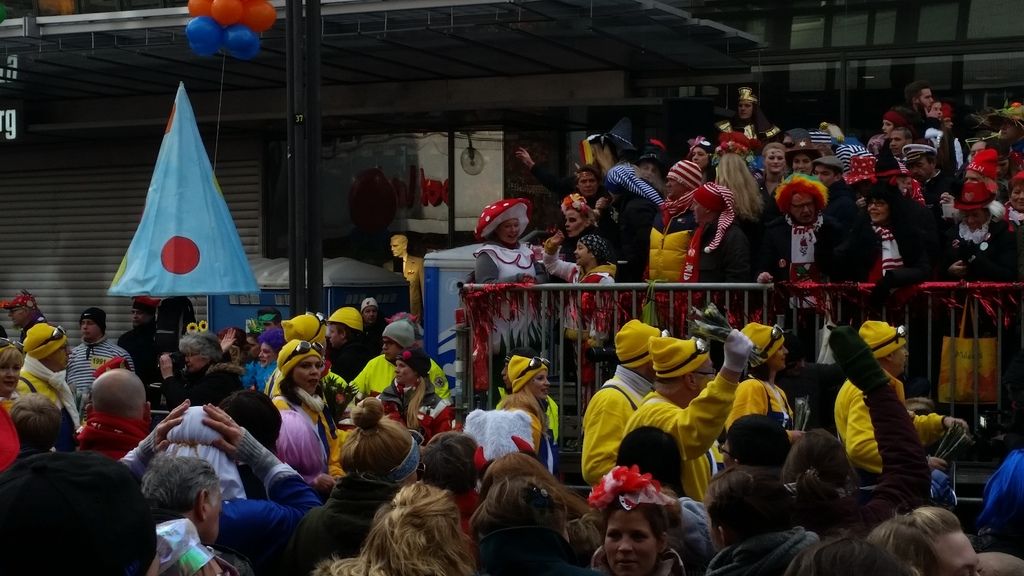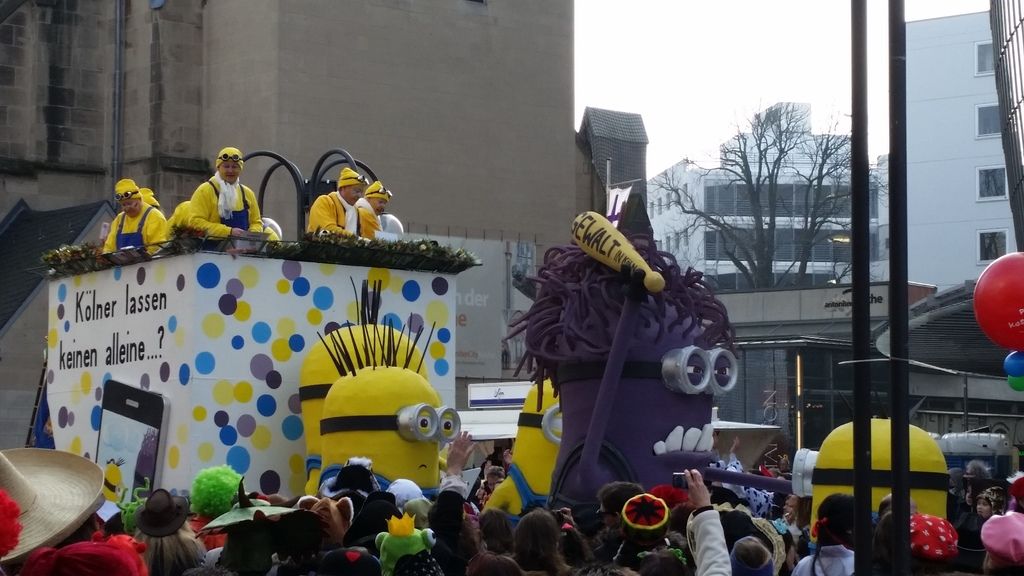 After we had spent a good hour and a half watching the floats go by we decided to follow the route and find out where their journey ended. As we reached it we came across an incredible little private party. My wife and I saw about 15 parked floats all along the road and hundreds of participants drinking, dancing and generally celebrating the end of the parade - the sight was surreal....'the place the floats go to die'.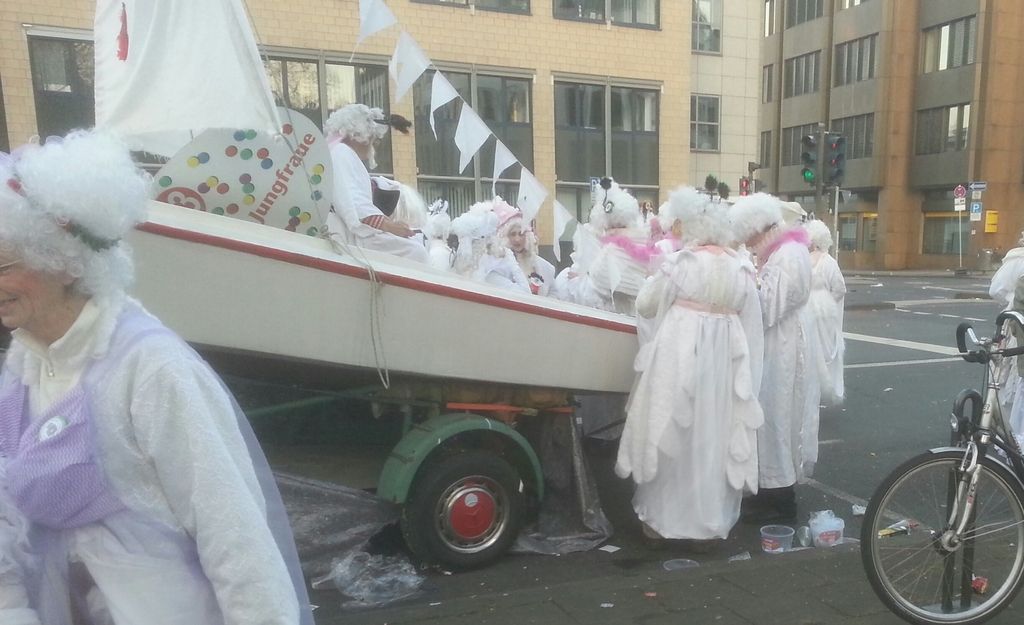 The Sunday evening was the busiest we had seen it. Bars and clubs had stacks of speakers set up outside their doors, blasting out tunes for the hundreds of monks, surgeons and Ghostbusters that stumbled merrily along the road. We definetley didn't feel out of place in our costumes - today we had chosen to go as Robin Hood and Maid Marrion. One of the elements that really strikes you as unusual at this time of night is just how welcoming everyone is...we wondered just how different this all might have been if it were to take place over here in the UK. I might be wrong but with the sheer mass of alcohol being consumed in the evening makes me unsure that the place would be as positive and friendly over here. We never felt unsafe or at risk walking the streets and didn't see a single argument, let alone a fight, break out.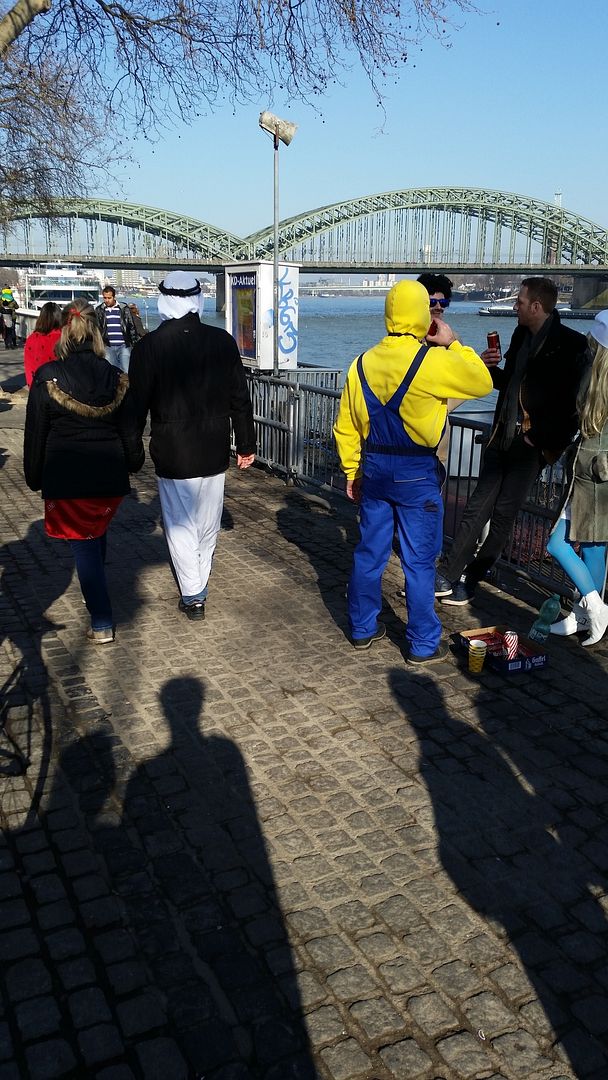 All in all we witnessed a fantastic spectacle that really brought out the best of Cologne and its inhabitants; a people who were clearly both very proud of, and very engaged in, the event. It is something that I would recommend all attempt to experience at some point - especially if you have a soft spot for fancy dress! Bring on 2016!!
Thanks
Chris J
Alterego Fancydress
Enjoy this post? Follow our blog for more ideas and coverage of fancy dress events. And please join our Social Media family on Facebook & Twitter. Check out our pinterest page for more costume inspiration.